Overview of Cambodia
The better you understand the business environment and what makes it tick, the less likely your decision will be premised on emotion, hearsay or just because someone claiming to be 'connected' said so. Not unlike Singapore, Cambodia is sandwiched between two larger neighbours – Thailand to the north and west along an 817 km border, and Vietnam to the east and south-east along a 1,158 km border. It also shares a 555 km long border with Laos to its north. Cambodia's geography consists of several mountain ranges and vast swathes of wetlands and agricultural land. Its agricultural land has been assessed to be one of the most fertile in the region.
The kingdom's 25 provinces (the capital city of Phnom Penh is a municipality and is generally regarded as having the same status as a province) are connected by national roads and highways which in recent years, the government has invested in improving highways with the assistance of foreign aid and loans from its development partners (see map below). Most notably National Highway 6, connecting Siem Reap & Phnom Penh, National Highway 4 connected Phnom Penh to the coastal province of Sihanoukville, and the government is scheduled to complete roadworks in 2022 on National Highway 5 connecting Phnom Penh and Battambang (leading subsequently to the Thai border).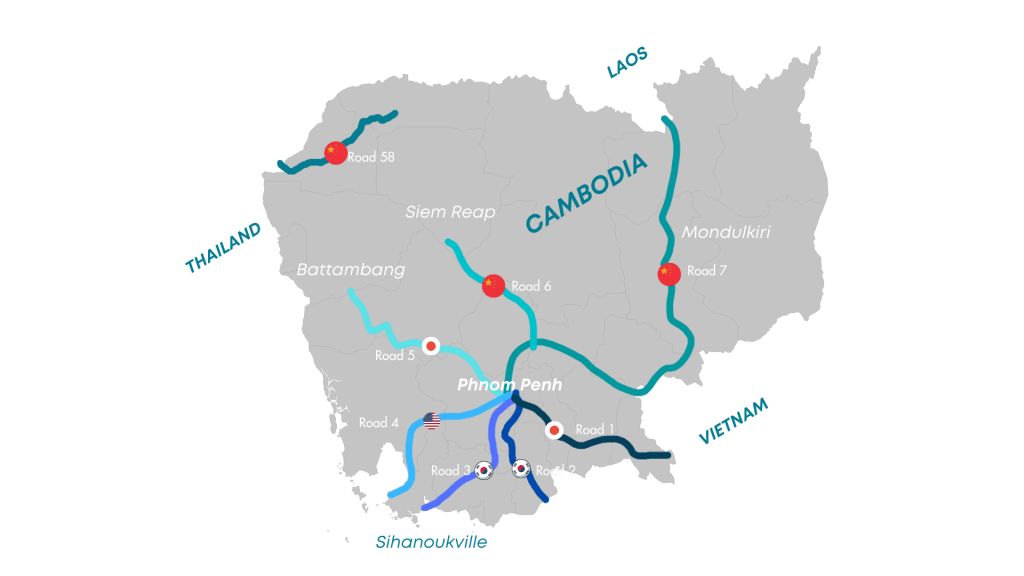 Cambodia enjoys a strategic location in the heart of mainland Southeast Asia and is well connected with countries in the Asia Pacific and beyond through multiple international flights a week. Because of its high vaccination rate (90.1% as of February 2022) and ability to acquire or procure vaccines from different sources and through COVAX, some international flights to Cambodia have resumed. Consistent with its business-friendly approach, it is one of the first countries in the region to open its economy and borders to vaccinated business and leisure travellers. Its new international airport in Kandal (35 km from the centre of Phnom Penh) is on track to be completed in 2023.
The train route from Bangkok – Poipet – Phnom Penh, currently operating for cargo with the goal of opening public transport by 2024. The Southern Economic Corridor is a proposed transport route that would connect the port of Dawei in Myanmar to ports in Vietnam, via Thailand and Cambodia. This is an alternative route to the East-East Economic Corridor and will be very beneficial to Cambodia which is in the epicentre of all proposed routes.
Population of Cambodia
Cambodia has a population of nearly 17 million people (16.83 million in January 2021, with a 1.5% growth rate). The average age is 26.6 years old and 81.7% of the population aged 15-59 years are in the labour force with unemployment estimated at 1.2%. However, it is estimated that unemployment may rise to 4.8% due to the economic impact of Covid 19. The labour force is becoming increasingly skilled as nation-wide literacy and graduation rates rise however, employers often struggle to find local skilled labour and should be prepared to conduct extensive training programmes for their local staff. 70% of the population of Cambodia are under 35 years of age there are stark differences between the younger and older generation regarding their level of education and consumer behaviour. Young Cambodians have more consumer awareness and purchasing power than ever before as and their appetite for quality goods and services is being met in urban areas with dozens of malls, commercial centres and international franchises launching every week.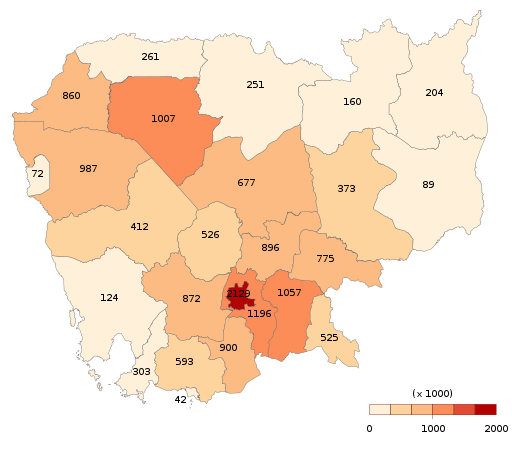 Rural, Urban & Housing
In the past decade, Cambodia has seen an increase in rural to urban migration with 40% of the population now living in urban areas. Most people in rural areas are involved in the agriculture sector with 90.6% homeownership compared to 81.9% in urban areas. Although there has been a notable boom in Cambodia's construction and real estate markets Cambodia's real estate market, these properties are typically being sold to foreigners with 60% of all sales in 2018 to Chinese investors alone.
See our section on Real Estate for more information.
Mobile & Internet
Only 38% of urban households have access to wifi however, there were a total of 21.42 million mobile phones accounted for in 2020, which corresponds to an average of 1.3 per person, the fourth-highest phones per capita in the world.
The number of social media users in Cambodia was equivalent to 71.3% of the total population in January 2021, with users favouring Facebook, YouTube, Tik Tok and Instagram. Social media marketing is crucial for businesses in Cambodia, most local businesses will have Facebook pages for their companies instead of websites.
See our section on IT & Telecommunication for more information.
Transport
The majority of the country travel by motorbike with 95% of households owning motorbikes compared to 12% car ownership according to the 2019 census. Public transport is limited in urban areas with a handful of bus routes available in Phnom Penh, however, this is offset by the low cost of ride-hailing apps such as Grab and Pass App charging as low as 3000R (75c) per kilometer. Minibusses and taxis are used for travel to provinces and remote areas. Road safety has increased substantially in recent however many Cambodians are still reluctant to travel at night, particularly women. If you are considering developing a business in a remote location you may need to consider providing safe transport options for your staff, this is common practice in garment factories. 
See our section on Transportation, Logistics, and Supply for more Information.
Language
Khmer
The Khmer language is the official language of Cambodia which is widely spoken by 90% of the population, Khmer has the longest alphabet and is considered one of the most difficult languages in the world to learn as its alphabet has never been simplified like Thai, Vietnamese, Chinese, Korean, Japanese etc. For this reason, coupled with poor quality education in the post-war era, much of the older generation of Cambodians are illiterate in Khmer but can read in the Roman alphabet.
English
Most business is conducted in English however if you are dealing with the Royal Cambodian Government and ministries Khmer is used for contracts and formal documentation. Foreigners are not expected to learn Khmer however any efforts to do so are much appreciated by the local community. Due to the prevalence of western media most Cambodians in urban areas speak English quite well, especially when compared to neighbouring Thailand and Vietnam. English is less common in rural areas.
French
Cambodia is a former French colony however, most Khmer French speakers were assassinated during the Khmer Rouge so the language is not spoken as widely as before. Academic subjects such as Medicine are still taught in French but typically it is not required for doing business in Cambodia.
Chinese
Chinese is considered an important language for business in the country albeit not essential. Many investors in Cambodia are Chinese, often they will speak English as a second language and less frequently Khmer. The Chinese language has become a popular choice with Khmer students in recent years as the demand for business translators increases.
Religion & Holidays
Buddhism is the national religion with 90% of the population identifying as Buddhist and the remaining 10% as Muslim, Christian, or other. Religion does not typically interfere with the business however, there are many religious holidays throughout the year, mandated by the Ministry of Labour. Most notably business grinds to a halt twice a year for at least one week (lunar calendar dependent); Pchum Ben Festival (Sep-Oct). Some businesses may also close for Chinese New Year, western holidays are formally recognized but may be celebrated socially.
Elections
Cambodia is a one-party dominant state with the Cambodian People's Party currently in power. Cambodia's legislature is chosen through a national election. The country has the longest-serving prime minister in the world, H.E Samdech Hun Sun who has been in power since 1985. The general election is held every five years in the fourth Sunday of July. The Parliament of Cambodia has two chambers. The National Assembly has 125 members, each elected for a five-year term by proportional representation. The Senate has 62 members, mostly indirectly elected. Cambodia's upcoming elections are;
The 2022 Cambodian Communal Elections will be held in Cambodia on 5 June 2022. 1,652 communes in all 25 provinces of Cambodia will be contested, for a total of 11,622 commune council seats. Elected councillors will go on to determine the majority in the 2024 Senate election.
The 2023 General Elections will be held in Cambodia in July that year to elect members of the seventh National Assembly. The Cambodian People's Party (CPP) currently holds all seats in parliament. Prime minister Hun Sen will seek another term in office, with his eldest son Hun Manet expected to take over on an unspecified date, either after 2023 or 2028.
Climate
Cambodia's climate is tropical and has a high temperature that is influenced by the monsoon. There are only two main seasons in Cambodia – the rainy season, which lasts from May to October, and the dry season, which runs from November to April. Due to its geographical advantages, Cambodia is considered one of the countries with a low risk of encountering natural disasters except for storms, floods, and droughts.
In the current day, Cambodia is raising numerous awareness campaigns toward climate change. The global campaign known as Race to Zero brings together real economy actors such as cities, businesses, and investors to build momentum towards a net-zero-emission economy by the middle of the century. It is worth noting that Cambodia is in the rapid development stage and is known as an investment-friendly country, it is also time to bring the country toward a greener environment. Local businesses must also take part in the corporate climate ambitions, not just business from foreign investors. In 2021 the Ministry of Environment hosted the first Climate Change Summit and attended COP26 in the UK. 
Feel free to enquire with the Aquarii team should you need further advice.
If you are looking for a more nuanced insight or advice in terms of other indicators/observations not commonly found in publications for a better understanding of how a business or investor can navigate the local environment or seek out collaboration opportunities and trustworthy partners, get in touch with our team at Aquarii. Ask to speak to our CEO if you wish to know why he has decided to make Cambodia his 2nd home, perhaps the strongest testament of his conviction in the potential and opportunities in the Kingdom.