Cambodia's telecommunications sector is fast developing and its overall outlook is promising and likely to enjoy robust growth in the years to come. In this article we discuss some of the key points and 'must knows' of the telecommunications sector in Cambodia. To find out more about doing business in Cambodia, contact our team today.
How developed is Cambodia's telecommunications sector?
Cambodia's telecommunications sector is fast developing and its overall outlook is promising and likely to enjoy robust growth in the years to come. There are several key observations to note:
The lack of regulatory restrictions or limitations on foreign ownership of telecommunications players
Government efforts to liberalize the telco market by allowing private investment and promoting competition has also attracted several foreign and local investments, a few of which are Chinese private entities
With lower-than-average mobile phone tariffs compared to other Southeast Asian countries, mobile services in Cambodia have surpassed the growth of fixed-line systems, the latter of which remains relatively underdeveloped
Increasing internet access and penetration among the Cambodian population, especially among the youths (75% of the population under the age of 35). Compared to neighbouring countries, subscription rates are still very low
Some telecom operators are upgrading their internet infrastructure to 5G, offering faster speeds and more reliable internet connections on smart devices. Reforms in telecommunications regulatory environment, and clearer delineation of the duties and responsibilities of Telecommunication Regulator of Cambodia (TRC) from the parent Ministry of Post and Telecommunications (MPTC).
What are the top telecommunications companies in Cambodia?
Launched in 1997, Cellcard is Cambodia's longest-serving and only 100% Cambodian-owned operator, reputed for its long history of first-to-market innovations, outstanding customer service and the fastest, most reliable mobile network. Considered as one of the biggest telco companies in Cambodia, Cellcard services over four million customers with nationwide coverage and an expansive dealer and distribution network. Find out more about Cellcard and Cellcard business services today.
With a vision towards providing connectivity for all and enhancing the way customers live, work and play, Cellcard's portfolio continues to expand to accommodate and build the esports and gaming community, provide digital entertainment services to address the need for real-time and on-demand content, and offer innovative and insightful enterprise solutions to support businesses.

Cellcard's leadership team has an entrepreneurial mindset with significant operational experience in telecommunications in both emerging and mature markets. The team has a tremendous depth of knowledge of the Cambodian market and understands customer behavior and psyche as market dynamics.
Other major telecommunications operators include:
CamGSM Co., Ltd. (Cellcard)
Smart Axiata Co., Ltd. (Smart Axiata)
Viettel (Cambodia) Pte. Ltd. (Metfone)
South East Asia Telecom (Cambodia) Co., Ltd. (Seatel Cambodia)
Which IT and telecommunications companies have gone public?
Cellcard is the only telecommunications company to go public, after it announced its plans to pursue an Initial Public Offering (IPO) in May 2023. This move is just the latest in a long line of innovative business developments that have helped Cellcard become a leader in the Cambodian telecommunications market.
Cellcard's decision to pursue an IPO is just the latest in a long line of innovative business developments that have helped the company become a leader in the Cambodian telecommunications market. By going public, Cellcard will be able to raise additional capital to fund further innovation and expansion, and the company's continued success is a testament to its commitment to providing the best possible products and services to its customers.
As a leading mobile network operator with over 4 million customers, Cellcard's listing on the Cambodia Securities Exchange (CSX) is expected to attract further attention from local investors about the stock market as well as increase stubbornly low liquidity in the market. The listing comes amidst positive growth signs for 2023, despite global economic headwinds and rising borrowing rates.
In conclusion, Cellcard's decision to pursue an IPO is just the latest in a long line of innovative business developments that have helped the company maintain its leadership position in the Cambodian telecommunications market. Through its focus on introducing new technologies, supporting entrepreneurship, and providing excellent customer service, Cellcard has become a trusted and respected brand in Cambodia, and the company's future looks bright as it continues to innovate and grow.
Which telecommunications companies have been instrumental in helping develop the Cambodian IT and telecommunications sector?
To use an example for innovation in it and telecommunications, Cellcard – the longest running and only 100% Khmer owned company – has been a pioneer in introducing new technologies and services to the Cambodian market. For example, Cellcard was the first company to introduce 3G technology to Cambodia, providing customers with faster internet speeds and a more reliable network.
In addition to 3G, Cellcard has also been at the forefront of mobile payment services in Cambodia. The company's Cellcard Cash service allows customers to make payments and transfer money using their mobile phones, making transactions faster, more convenient, and more secure.
Cellcard has also been a leader in the development of telco loyalty programmes in Cambodia. The company's Cellcard Club programme rewards customers for their loyalty with discounts, special offers, and exclusive promotions.
Another area where Cellcard has been a leader is in supporting entrepreneurship in Cambodia. The company's entrepreneur accelerator programmes provide support and resources to aspiring entrepreneurs, helping them turn their ideas into successful businesses.
In addition to these achievements, Cellcard has also been the first in Cambodia to open a digital experience service center, where customers can test out the latest devices and get expert advice on their purchases. The company has also hosted the first-ever software developers exhibit in Cambodia, showcasing the latest innovations in software development and providing a platform for local developers to showcase their work.
What is the Cambodian Government's policy for the telecommunications sector?
MPTC's digital government policy for 2021-2035 to serve as a roadmap for providing better public services through the use of digital technology, with priority emphasis on building more telecommunications infrastructure, improving telephone and internet services, etc
According to MPTC, as of April 2021, Cambodia has:
5 mobile service providers – Smart Axiata, Cellcard, Viettel, Cootel and SEAtel
47 ISP licenses were issued
12 m social media users or 71.3% of total population, a 24% YOY increase or 2.3 m over the same period in 2020
17.48 m Mobile internet subscribers or 104% of total population, a 7% YOY increase
Supplementary
Telecommunication Infrastructure Index of Cambodia 2020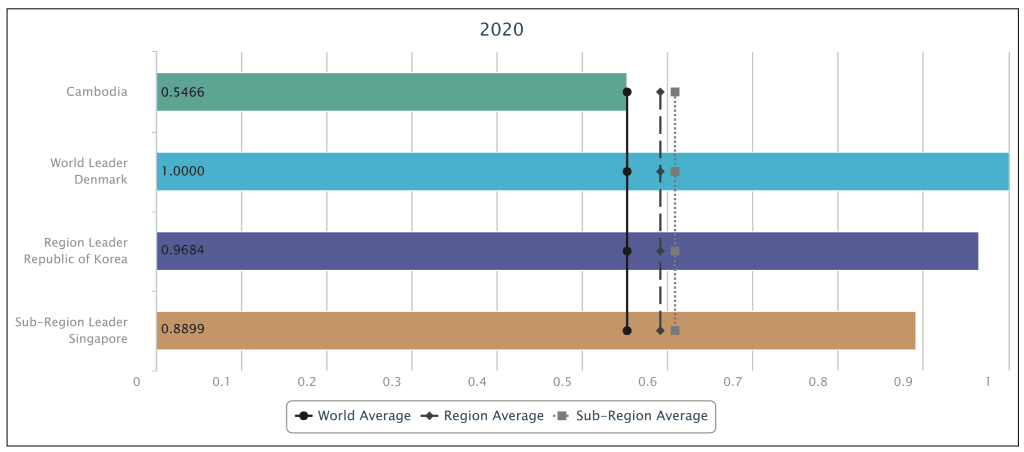 Number of Mobile Phones in Cambodia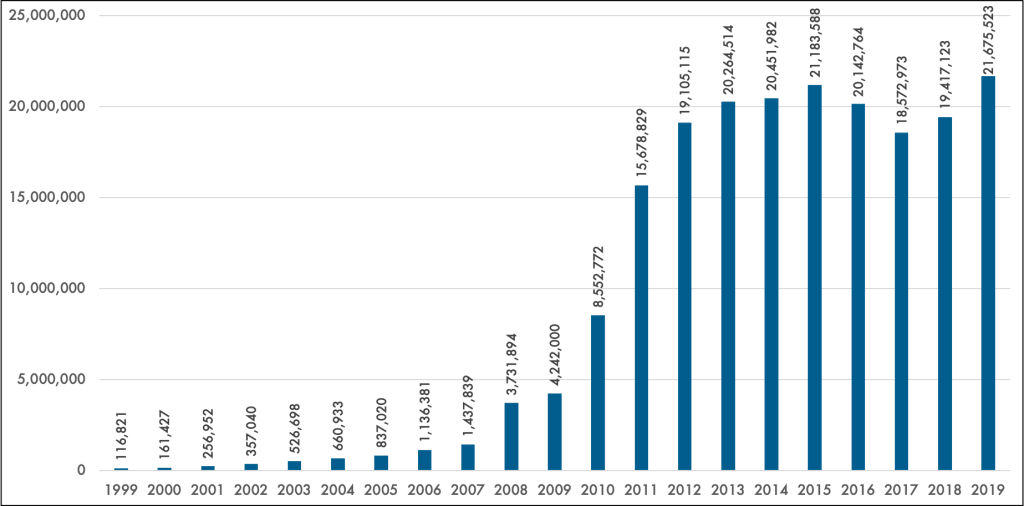 Internet Service Subscribers in Cambodia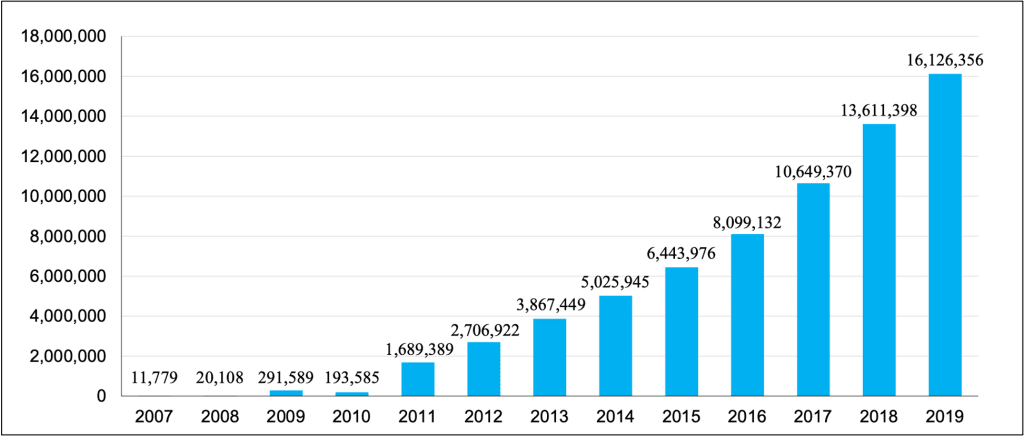 Feel free to enquire with the Aquarii team should you need further advice.
If you are looking for a more nuanced insight or advice in terms of other indicators/observations not commonly found in publications for a better understanding of how a business or investor can navigate the local environment or seek out collaboration opportunities and trustworthy partners, get in touch with our team at Aquarii. Ask to speak to our CEO if you wish to know why he has decided to make Cambodia his 2nd home, perhaps the strongest testament of his conviction in the potential and opportunities in the Kingdom.