According to the OECD Competition Assessment Reviews: Logistics Sector in Cambodia in 2021 and updates/figures from the Asian Development Bank (ADB) and World Bank (WB), Cambodia's transportation and storage market in 2019 was worth USD 2.1 billion, representing 7.8% of the country's GDP. Connectivity in Cambodia has improved drastically in the past decade, thanks mainly to the huge private and Overseas Development Assistance (ODA) investment projects spearheaded by China, Japan, and South Korea among other development partners.
Logistics costs over sales in Cambodia were estimated at 20.5% in 2018, higher than some ASEAN countries such as Thailand and Viet Nam, and the global average of 10-12%, but lower than others such as the Philippines and Indonesia. According to the WB, the informal logistics charges levied by government agencies remain significant at an estimated 48% of logistics administration costs. Improving transport infrastructure in Cambodia is essential to reduce logistics costs.
The salient characteristics of Cambodia's logistics sector are briefly appended below.
Largely dominated by Road Freight Transport
The primary road network has 2,254 km of national paved roads (1-digit roads) that connect the country with its borders, the GMS, and the ASEAN network; 5,007 km of inland national roads (2-digit roads), of which 72% are paved; and 9,031 km of provincial roads (3- and 4-digit roads), of which only 30% are paved.
The number of registered trucks more than doubled between 2008 and 2016.
Continues to be the dominant mode of transport in Cambodia.
Fixed costs are low as the physical transport infrastructure, such as roads and highways are publicly funded.
Variable costs include fuel costs (subject to oil prices), maintenance charges, road use and congestion.
Often the transport mode of choice as it allows door-to-door delivery without need to transfer cargo between different vehicles, which means lower costs for senders / recipients and reduced risks of loss or damage.
Border cities of Poipet (Cambodia-Thailand border) and Bavet (Cambodia-Vietnam) see thriving cross-border trade; several SEZs are also located in proximity.
Inland waterway and maritime freight transport
Represents a smaller proportion of the freight transportation sector in Cambodia, but remains an important element for the country's local economy and exports.
Two international ports – Phnom Penh Autonomous Port (PPAP) and Sihanoukville Autonomous Port (SAP) – as well as inland waterways for freight and passenger traffic. SAP is the only deep-water seaport in Cambodia and PPAP a river port, but the import-export volume through the latter in 2018 was higher than that of SAP. Both ports recorded solid growth in 2019 in terms of volume handled (SAP: 633 099 TEUs and PPAP: 275 000 TEUs).
Airports and Air Cargo
Cambodia's international airports are in Phnom Penh (new international airport being built in Takmao, Kandal Province), Sihanoukville and Siem Reap. Several smaller airports are being constructed or planned in other provinces.
Rail Freight Transport (linking Phnom Penh and Sihanoukville)
Rail network covers 652 kilometres consisting of the Northern line (386km), which links Phnom Penh to the Thai border at Poi Pet, crossing Battambang and the Southern line (264 km), which links Phnom Penh to the port of Sihanoukville. There is also a 6.5 km branch line linking the Phnom Penh railway station with petroleum depot facilities along the Tonle Sap River.
Nonexistent in 2010, but Southern line reopened to freight traffic in 2013 mostly for bulky, non-perishable goods such as rice and petroleum. Northern line is still undergoing significant rehabilitation.
Overall freight volume negligible compared to road transport.
Freight forwarding and warehousing
Several freight forwarding companies that rely on large and medium trucks, vans and motorbikes. Low use of digital technology to track goods / cargos, or in management of inventory.
Warehousing is fragmented and largely built by supply chain and logistics companies (eg: supermarkets, food distributors, etc) for their own use.
Cold chain warehousing is severely lacking.
Impact of Covid on Logistic and Transportation
Covid pandemic has severely disrupted supply chains and limited the flows of trade and investments. According to the Cambodia Freight Forwarders Association (CAMFFA), about 10 to 15% of logistics providers were heading for bankruptcy as of June 2020.
Supplementary
Logistics Performance Ranking of Cambodia and Its Neighbors, 2010–2018
Cambodia's Ranking based on Indicators in the Logistics Performance Indicators, 2016 and 2018 (Score)
Cambodia Road Indicator
Railway Traffic Volume (in thousand tons)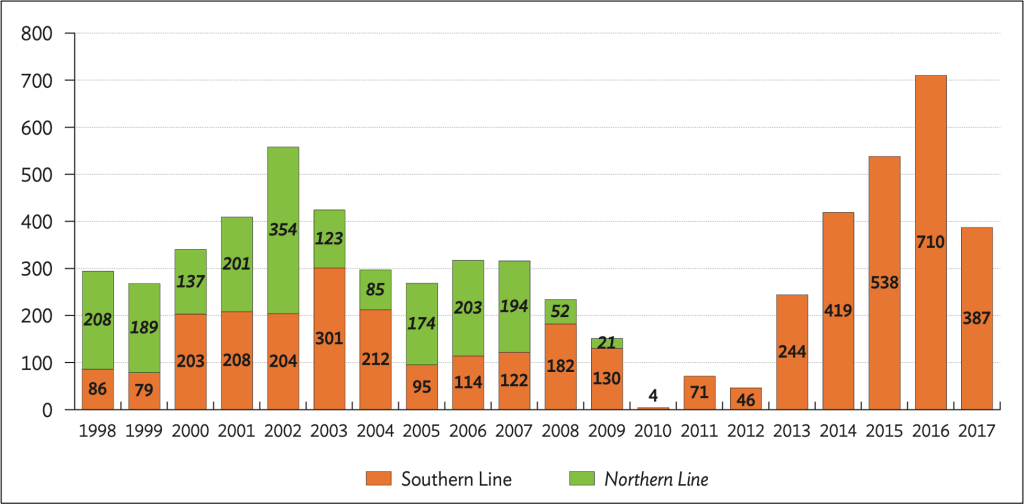 Feel free to enquire with the Aquarii team should you need further advice.
If you are looking for a more nuanced insight or advice in terms of other indicators/observations not commonly found in publications for a better understanding of how a business or investor can navigate the local environment or seek out collaboration opportunities and trustworthy partners, get in touch with our team at Aquarii. Ask to speak to our CEO if you wish to know why he has decided to make Cambodia his 2nd home, perhaps the strongest testament of his conviction in the potential and opportunities in the Kingdom.