Cambodia's major export products are garments, footwear, travel goods, bicycles, furniture and agriculture. It mainly imports refined petroleum, knitted fabric, gold, vehicles, construction raw materials and all sorts of consumer goods due to the lack of manufacturing facilities. Its top export markets in 2019 were the US, EU, Japan, China, UK, Canada, Thailand, Vietnam and Singapore, whereas its top import partners were China, Thailand, Vietnam, Japan, EU, Singapore and the US. The trade volume between Cambodia and US increased by 42% to USD 7.8 billion in 2021, compared to USD 5.5 billion in 2020 despite the impacts of the Covid-19 pandemic. China-Cambodia trade volume reached USD 3.75 billion, up 39.2% year-on-year, the highest growth rate in bilateral trade with China and another ASEAN member country while EU trade volume is 3.8 billion in 2020.
According to statistics from the General Department of Customs and Excise (GDCE), Cambodia's trade volume clocked in at USD 17.65 billion in the first four months of 2022. Export volume reached USD 7.61 billion, an increase of 32.06% from USD 5.76 billion in the same period last year. Import volume was USD 10.04 billion, a year-on-year increase of 5.44% from USD 9.52 billion. Trade deficit in the same period fell by 35.27 per cent from 3.76 billion to USD 2.44 billion.
(Note: These are based on Cambodian official figures and publications by other foreign sources may show different results as their computation and collation of trade figures vary. However, the top 3 remain the same across different methodologies).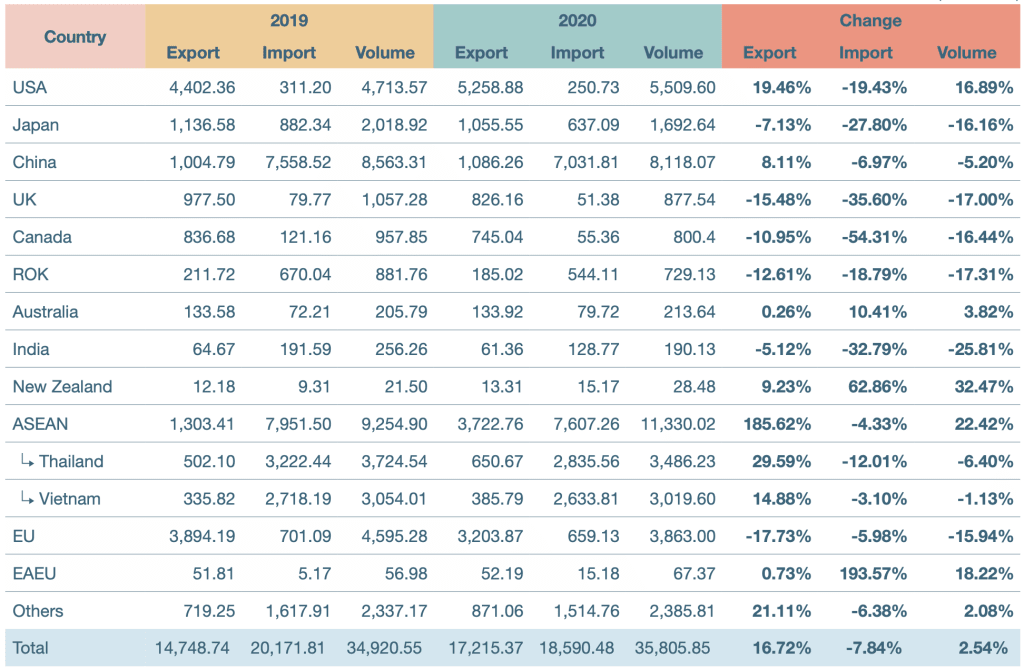 According to various reports/publications in 2020/2021 by the Organization for Economic Cooperation and Development (OECD), the World Bank (WB), Garment Manufacturing Association of Cambodia (GMAC), the Ministry of Foreign Affairs and International Cooperation (MFAIC) among others, Cambodia continues to be an active trading economy, recording a robust 16.72% YOY increase in total exports in 2020 despite the Covid pandemic, a plummet in global demand and the partial withdrawal of the EU's Everything But Arms (EBA) tariff exemption for Cambodia which affected about 20% of its exports to the EU. Amazingly, Cambodia's total exports for 2021 looks set to equal or exceed that in 2020 with diversification of merchandise exports beyond just garments despite rising costs of logistics amidst a global disruption of the supply chain.
Analysts and observers attribute Cambodia's resilience and rebound to several factors – the (still) low cost of labour and production despite the increase in the minimum wage in recent years (US$194 per month in 2022, up from US$192 a month in 2021), its political stability, business-friendly economy (despite what some publications have claimed otherwise), and its geostrategic location in the heart of mainland Southeast Asia. The latter means that Cambodia is within easy reach by flight from most major cities in Asia, by road through its border checkpoints with Thailand, Vietnam and Laos, and by sea through its deep-sea port in Sihanoukville, the autonomous port in Phnom Penh and its many smaller ports along the Mekong and its tributaries that course through Cambodia.
Quick Facts of Trade in Cambodia: In first nine months of 2021
Total merchandize exports (excluding gold) rose 23% YOY to US$12.6 billion (compared to 25.5% YOY in January 2020)
Top four manufacturing exports (67.5% of total merchandize exports): garment, travel goods, footwear, and bicycle products
The fifth- and sixth- largest exported products are agricultural commodities, and milled rice and rubber, totaling USD 285 million and USD 266 million respectively.
New manufacturing products that have emerged include electrical, electronic, vehicle parts, and cables with a combined total of USD 412 million, a YOY increase of 23.1 %.
US continues to be Cambodia's largest export market with exports to the world's largest economy surging by 31.9% to USD 3.4 b despite uncertainty in the renewal of the Generalized System of Preferences (GSP) where developing countries are able to export their goods to the US exempt from tariff; Cambodia is a beneficiary of the program
The EU continues to be Cambodia's 2nd largest export market. Cambodia's exports to the EU grew 15% to USD 2.2 b despite the August 2020 partial withdrawal of EU's EBA tariff exemption for Cambodia (announcement in Feb 2020 and affecting 20% of exports to the EU; prompted withdrawals by certain manufacturers/labels and caused others to shelf plans to open in Cambodia, causing much uncertainty to the industry, resulting in 35% decline in Cambodia's exports of garments, footwear and travel goods to the EU in 2020)
Not many may be aware that an agreement with the European Patent Organization came into force at the beginning of 2018, providing validation of EU patents in Cambodia and signatory states, or essentially protecting the innovation of manufactured products by EU companies in Cambodia for the Asian market. Moreover, given the tariff exemption/preference schemes under the EBA and GSP that the EU and the US respectively accord to the Kingdom, the Free Trade Agreements (FTA) that Cambodia signed with China (July 2021) and South Korea (Oct 2021), as well as the Regional Comprehensive Economic Partnership (RCEP, Nov 2020), businesses and investors should leverage on the comparative advantage of setting up their manufacturing or assembly facilities in Cambodia for export to these overseas markets.
Supplementary
Export, Import, Trade Balance (percentage of GDP)
Feel free to enquire with the Aquarii team should you need further advice.
If you are looking for a more nuanced insight or advice in terms of other indicators/observations not commonly found in publications for a better understanding of how a business or investor can navigate the local environment or seek out collaboration opportunities and trustworthy partners, get in touch with our team at Aquarii. Ask to speak to our CEO if you wish to know why he has decided to make Cambodia his 2nd home, perhaps the strongest testament of his conviction in the potential and opportunities in the Kingdom.