The energy sector in Cambodia has grown rapidly over the past decade, driven by the Royal Government of Cambodia's (RGC) key priorities to increase energy access, reduce the cost of energy, and diversify energy security for the country. There are two sources of energy generation: (1) domestic generation and (2) import from neighboring countries.
Source of Energy
According to Electricity Authority of Cambodia, as of 2021, 51.17% of the country's domestic energy production are from renewable sources. The majority was hydropower 44.17%, while solar and biomass accounted for around 7%. Almost 49% source of energy production comes from non-renewable sources which include coal and fuel oil.
The country was able to meet its power demands with domestic generation resources during the rainy season. However, it still relies on imports, mainly from Vietnam, to cover shortfalls in hydro power production during the dry season, as well as to meet peak daytime demands and for grid stabilization throughout the year.
The increase in consumption has been supported by the build-out of a national transmission backbone, expansion of domestic energy generation capabilities and an electrification program which has connected more than 99.88% of all villages and 86.43% of all households at the end of 2021.
Development of Energy Sector
In recent years, however, the RGC has moved with global trends to construct and commission new large-scale solar power projects, functioning as power plants, in an effort to further diversify Cambodia's energy portfolio and to include more renewables.
National Grid
Under the Kingdom's Development Plan of the National Grid by 2025, the three main objectives are:
Provide an opportunity to develop and integrate all power sources in the country into one grid system
Control power sources based on time and season to meet the electricity demand
Transmit power to all cities and provinces throughout the country
By the end of 2021, four transmission lines covering 3,443.42 km had been installed. This allows electricity access to 54 substations which supply directly to 24 cities/provinces throughout Cambodia.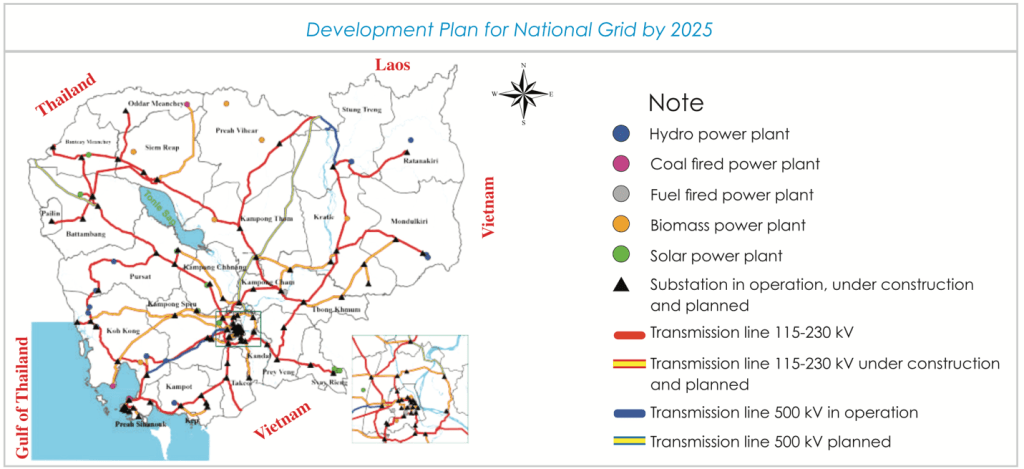 In addition to that, in 2022, a project worth EUR 86.41 million (USD 92 million) to build electricity transmission lines and distribution networks in 3 provinces (Kampong Cham, Kratie and Koh Kong) to improve energy supply for the region's rural population has been officially launched. The financing for the project was arranged by Electricité du Cambodge (EDC) with loans and grants from the French and the EUEDC. Foreign investments in solar panels are expected to grow after a US government announcement to grant temporary suspension on import duties on solar and modules from Cambodia and three other Southeast Asia countries.
Hydropower
Blessed with vast water resources including the Mekong River, hydropower is Cambodia's main source of electricity. In 2018 the country took an important step forward in achieving its energy goals with the commissioning of the 400 MW Lower Sesan II, the Kingdom's largest hydropower project. Located in the northeast of the country on a major tributary of the Mekong River, it was built at a cost of USD 780 million and is a joint-venture between China, Cambodia and Vietnam. Lower Sesan II will boost electricity production by 20 per cent with the electricity being sold to the state-owned utility Electricité du Cambodge (EDC) at a base price of USD 0.0695 cents/kWh.
With Lower Sesan II entering into operation, Chinese built hydropower projects in Cambodia have an installed capacity of over 1,300 MW and account for half of the country's total installed capacity from all energy sources.
Several more hydropower projects have been proposed in recent years including the 2,600 MW Sambor project located on the mainstream of the Mekong River. An additional 7 hydro power plants sized between 36 MW and 120 MW are scheduled to come into operation in 2022 and 2023 for a total added capacity of 544 MW. In 2025 the first phase (600 MW) of the proposed Sambor hydro dam is scheduled to come into operation with phase 2 and 3 to come online in 2026 and 2027, adding an additional 1,200 MW to the grid.
Solar
Cambodia has some of the best solar resources in the region, due to high average irradiation. Theoretically, the Kingdom has around 134,500 km2 of land with potential for photovoltaics (PV) development. It is by far the cheapest source of new power supply, with sale prices to EDC between 3.9–6.9 cents per kilowatt hour (kWh).
The RGC has been working with ADB to deploy phase two of the solar park, which will include tendering the remaining 40MW of capacity. In late 2017, the RGC started an initial feasibility study for the development of a 100 MW solar park. The solar park was developed in two phases of approximately 30 MW and 70 MW.
In a press release by the Ministry of Mines and Energy, Cambodia will add 495MW of solar power capacity from seven projects by 2023, which will represent 20% of the total energy supply.
Coal
Over half of Cambodia's electricity is generated in coal power plants, almost all built with Chinese involvement. Coal's share in the energy mix was set to increase to 75 percent by 2030. The Kingdom's coal power capacity is projected to reach 4,675 megawatts (MW) within the next 10 years. Of that, only 675 MW is operational, and over 900 MW is under construction. The remaining 3,100 MW, two-thirds of the planned capacity, may be at risk, including the 2,400 MW which is supposed to be imported from projects planned in neighboring Laos.
The Challenges
According to a recent release by RHTLaw Asia, despite the RGC's efforts to increase renewable energy supply,​ Cambodia still faces some challenges as follows:
Demand outstrips Supply: This has in fact been recently confirmed by the Ministry of Mines and Energy in its recent Power Development Plan of 2021.
Aging Network & System: According to the ADB, there has been a substantial lack of investment into the electricity infrastructure of the country, and this was clearly evident in the wide spread power cuts and outages in 2019 that cause a deficit of not less than 400 MW daily, lasting from two to five hours every day and this persisted for the entire hot season that year.
Uncompetitive Prices: The cost of electricity is probably the biggest most critical factor. Compared to its Southeast Asian neighbors, the county's electricity tariffs are significantly higher and this creates a huge deterrent when companies are deciding where to set up their factories.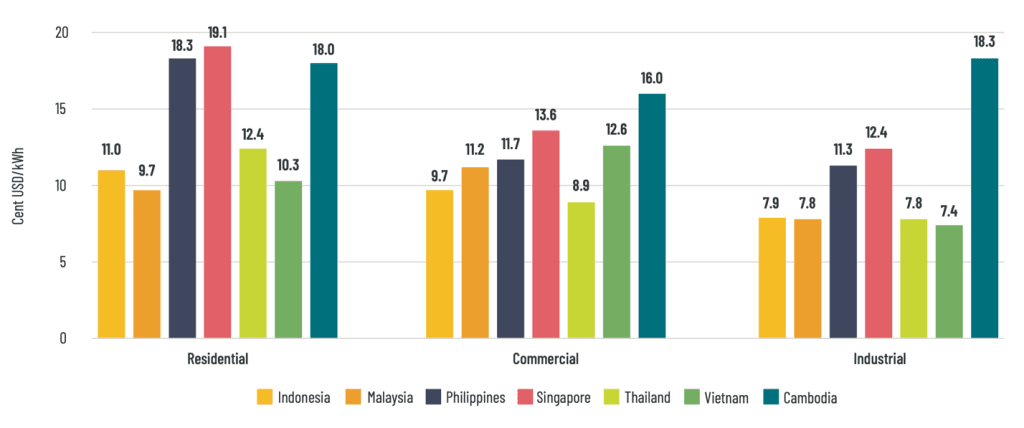 RGC's Initiative Toward the Development of Energy Sector
In its attempt to attract more investments into the energy sector, the RGC has enacted a new Law on Investment (LOI) in October 2021 which focuses on renewable energy as one of the sectors to be incentivised. It provides additional tax incentives for green energy producers by registering as Qualified Investment Projects (QIPSs) (read RHTLaw Asia's article on Solar Power: A Beacon of Hope for Cambodia).
Additionally, the Environmental Code of Cambodia is being reviewed by the government and once promulgated, it should provide much needed clarity and certainty for green energy producers. Potentially, these include the following:
Access to companies and consumers using solar energy to connect to the national grid;
Development of a net metering system.
Up to 20% reduction in profit taxes for any company generating at least 20% of its own renewable energy.
Implementation of a one-year pilot for a feed-in-tariff system with a fixed rate for solar energy fed into the grid
It is predicted that the adoption of the new Investment Law incentives and clarity from the Environmental Code and its implementation regulations will be a strong catalyst for further for investment into renewable energy in this Kingdom.
Feel free to enquire with the Aquarii team should you need further advice.
If you are looking for a more nuanced insight or advice in terms of other indicators/observations not commonly found in publications for a better understanding of how a business or investor can navigate the local environment or seek out collaboration opportunities and trustworthy partners, get in touch with our team at Aquarii. Ask to speak to our CEO if you wish to know why he has decided to make Cambodia his 2nd home, perhaps the strongest testament of his conviction in the potential and opportunities in the Kingdom.