Cambodia experienced a boom in the construction and real estate industry since 2000, but construction activities and real estate prices defied reality particularly from 2016 to 2019. Between 2000 to 2018 alone, Cambodia's Ministry of Land Management, Urban Planning, and Construction (MLMUPC) approved 43,136 construction projects with an estimated investment value of USD 43.3 b. But according to the National Bank of Cambodia's estimates, MLMUPC approved USD 11.4 b worth of new construction projects in 2019 alone. The residential, commercial, and industrial segments accounted for about 46-50%, 30-35%, and 14-15% share of new projects respectively.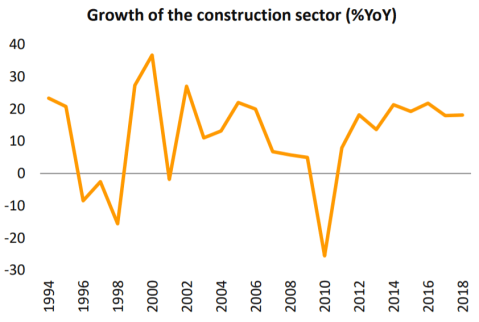 Unfortunately, building and workers' safety lagged behind the frenetic pace of construction activities as unauthorized projects launched by opportunistic developers rushing to capitalize on rising real estate prices were pushed ahead. Just 6 months following the death of 3 workers in the collapse of a temple under construction in Siem Reap, a seven-story building under construction in Sihanoukville collapsed in Jun 2019, killing 28 workers sleeping inside. The government amended the Law on Construction in November 2019, including stricter requirements on safety measures at work sites, mandating building safety inspections, and further strengthening permit requirements. Several illegally constructed buildings in Sihanoukville and elsewhere were declared unsafe and demolished. Buildings under construction now require the safety and quality of their structures to be inspected by independent inspectors licensed by MLMUPC.
Construction Continued to be Subdued Due to Excess Supply
The slowdown in the global economy in 2019 was weighed down further by the Covid pandemic which caused severe disruption in the global supply chain and lockdowns/restrictions on international travel. As foreign investors/buyers accounted for 60-70% of sales in the real estate and property market in Cambodia, external demand for the excess supply of condominiums, apartments, commercial offices, and other mixed development projects was likewise interrupted. This was exacerbated by the lack of supply (and rising prices) of construction materials, labor, and funds. Many projects such as FDI-financed property investment, especially in high-rise development projects in Phnom Penh and Sihanoukville, were suspended.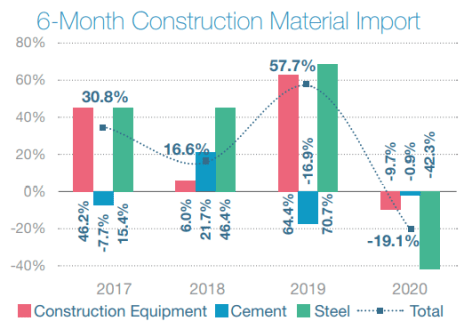 See also section under Real Estate, Property Management and Maintenance

Real estate sale and rental prices in residential, commercial, and industrial sectors have been declining. Condominium and private apartment prices have been hit particularly hard. With excess supply and lower foreign investor/buyer appetite to invest in property development projects, the value of approved construction permits has also plummeted, contracting by as much as 63% in 2020. Most observers and experts in the real estate industry expect supply and average property prices to slip further before a slow and gradual recovery.
Feel free to enquire with the Aquarii team should you need further advice.
If you are looking for a more nuanced insight or advice in terms of other indicators/observations not commonly found in publications for a better understanding of how a business or investor can navigate the local environment or seek out collaboration opportunities and trustworthy partners, get in touch with our team at Aquarii. Ask to speak to our CEO if you wish to know why he has decided to make Cambodia his 2nd home, perhaps the strongest testament of his conviction in the potential and opportunities in the Kingdom.