According to the OECD Competition Assessment Reviews: Logistics Sector in Cambodia in 2021, in 2019, the services sector accounted for 38.9% of Cambodia's GDP, industry for 34.2%, and agriculture for 20.7%.
Agriculture
Some salient facts concerning Cambodia's agriculture sector, according to Asian Development Bank (ADB)'s report in July 2021, are briefly appended below.
The share of agriculture value-added to the total GDP averaged around 30% during 2000−2014 but fell to 22.1% in 2019
Within the sector, crop production has the largest output contribution to total national GDP at 13.0%, followed by fisheries (5.5%), livestock (2.6%), and forestry (1.6%). However, the growth of agriculture value-added has been limited (0.85% annually, on average) since 2013 due to the long-term low labor productivity, lack of rice milling facilities, downturn in international commodity prices and adverse weather conditions
Only about 10% of Cambodia's total agricultural outputs are processed within the country, whereas processed agricultural exports represent only 8% of total official exports by value. Other than rice milling and basic processing of rubber and pepper, the agro-processing sector is largely underdeveloped.
Cambodia's fertilizer use per hectare of cropland increased from 10 kg in 2005 to 33 kg in 2018. Pesticides are also imported, but are allegedly either poorly regulated or unregulated.
Notwithstanding, many of Cambodia's agricultural products that are not for export market (i.e. from individual farms or smaller plantations) are either organically grown or use very little pesticide. If these sources can be better organized and incentivized, there is great opportunity to exploit growing global demand for organic products for export.
Access to markets, transport, and logistics continue to be limited or dictated by the larger buyers from Thailand and Vietnam. Farmers are predominantly price takers. Most sell their crops to traders from Thailand and Vietnam just after harvest (or take up loans from them before the next season, thus owning a debt which they are obligated to pay by selling the following season's harvest to them).
Varieties are mixed and only small volumes of pure varieties are found, which hinder value recognition and addition. this includes organic or naturally grown products that use very little pesticide. For further value addition in agriculture, access to international markets and early funding for farmers is important. Efficient transport and logistic infrastructure and services are also necessary to strengthen agri-food value chains.
The majority of the country's agriculture exports are still in raw form and heavily dependent on crops. The main export products are rice and rubber, with an increasing share of cassava. From 2010 to 2018, the biggest reduction of export value was seen in maize.
Some previously cultivated cash crops (e.g., soybean, peanuts, sesame, sugar cane, jute, tobacco) have seen area and production declines of almost half compared to 2012. However, subsidiary annual crops (e.g., maize, cassava, sweet potatoes, vegetables, and mung bean) saw cultivated area increases from 727,740 ha in 2017 to 1,006,542 ha in 2018.
Perennial crop area (including cashew nut, mango, banana, coconut, orange, jackfruit, durian, and black pepper) expanded from 953,597 ha in 2014 to 1,091,000 ha in 2018. Similarly, perennial crop production increased from over 14.7 million tons in 2014 to 16.6 million tons in 2018, up 10.5% over the past 5 years.
Geographical indication (GI) protection is available where the quality or reputation of the goods is essentially attributable to its place of origin. To date, the following have been accepted for GI protection in Cambodia:
Cambodia also plans to submit six products for GI registration in the EU:
Pursat oranges
Kampot durians
Kampot salt (produced in Banteay Meanchey Province's Phnom Srok district)
Steamed balut (fertilized duck egg) from Takeo province's Sre Ronong commune
Rice from Battambang province's Thma Koul district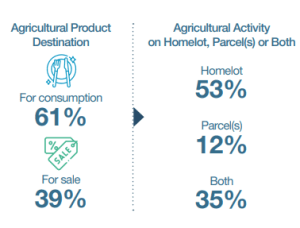 Aquaculture
Cambodia's wetlands cover about 30% of the country and support one of the world's biggest, most diverse, and intensive freshwater fisheries. Most harvested fish are from the Tonle Sap and are migratory species. At least 20 species are important for both domestic consumption as well as exports. Some salient facts concerning Cambodia's aquaculture, according to Asian Development Bank (ADB)'s report in July 2021, are briefly appended below.
Capture fisheries reaching their sustainable limits. Fisheries production has increased by nearly 20% since 2013, but the majority of fisheries output still comes from capture fisheries. Volumes of inland capture fisheries have remained roughly static with 527,795 tons of catch recorded in 2017 and marine capture with just over 121,025 tons.
Increasing aquaculture production. Aquaculture production is estimated at 207,443 tons annually in 2017, which is equivalent to 24% of all fisheries production. Production has increased by about 30,000 tons a year in the preceding two years.
Current policy emphasis is on community fisheries development. There are presently 475 inland community fisheries and 41 marine community fisheries. This community-based model is suitable for high-value fisher exports but lacks an appropriate value chain structure and organization.
Cambodia exports fresh and processed fish (in smoked and frozen forms) to Hong Kong, China; Malaysia; the Republic of Korea; Singapore; Thailand; and Viet Nam. However, the largest volumes by far are informal or unrecorded flows of fresh or dried fish trucked to Thailand, especially from the Tonle Sap region. There is enormous potential to add value to the national fish catch by processing fish at or near the source. This can range from making sauces, fillets, and packaged or convenience meals.
At present, there are few freezing plants or cold chain facilities in the country. There are no industrial-scale commercial exporters transporting frozen fish products in reefer containers from Sihanoukville or shipping fresh fish from Phnom Penh. Cambodia could tap into overseas markets, such as China, EU, US or the food security needs of Southeast Asian countries.
Feel free to enquire with the Aquarii team should you need further advice.
If you are looking for a more nuanced insight or advice in terms of other indicators/observations not commonly found in publications for a better understanding of how a business or investor can navigate the local environment or seek out collaboration opportunities and trustworthy partners, get in touch with our team at Aquarii. Ask to speak to our CEO if you wish to know why he has decided to make Cambodia his 2nd home, perhaps the strongest testament of his conviction in the potential and opportunities in the Kingdom.